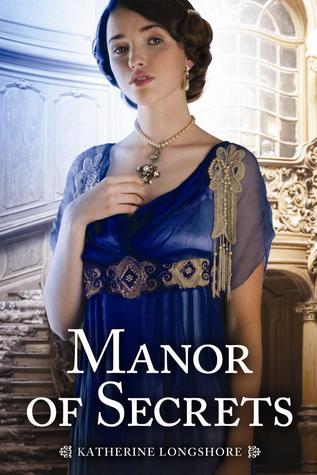 Manor of Secrets
by Katherine Longshore
Pages: 320
Source: Netgalley
Format: eARC
Goodreads Synopsis:
The year is 1911. And at The Manor, nothing is as it seems . . .
Lady Charlotte Edmonds: Beautiful, wealthy, and sheltered, Charlotte feels suffocated by the strictures of upper-crust society. She longs to see the world beyond The Manor, to seek out high adventure. And most of all, romance.
Janie Seward: Fiery, hardworking, and clever, Janie knows she can be more than just a kitchen maid. But she isn't sure she possesses the courage -- or the means -- to break free and follow her passions.
Both Charlotte and Janie are ready for change. As their paths overlap in the gilded hallways and dark corridors of The Manor, rules are broken and secrets are revealed. Secrets that will alter the course of their lives. . . forever.
Not all is as it seems at the Manor.
Lady Charlotte is wealthy, available, and incredibly bored.
Janie is hardworking, determined, and just trying to keep her job.
What happens when you put this two young ladies together?
Scandals and secrets! That's what happens! And it is so much fun.
The early 1900s saw the separation of the classes where interactions were discouraged. Servants were not to be seen nor heard by those of the upper class. However, Lady Charlotte has different plans. She's tired of having to stick to the social norms and get married to a boring lord and have children and sew all day. She wants adventure and to do things that may not be socially acceptable, especially where a handsome and completely off-limits footman is involved.
Enter Janie, a hard-working girl with a fiery streak. She has the relative freedom that Charlotte so desires. The two strike up a friendship in spite of every social norm saying otherwise. While things don't always go quite as smoothly as they may like, this is a story of true friendship and sticking up for your friends no matter what. This is a story that questions the social "norms" and what it means to be a woman or servant in this time.
Perhaps the one thing I loved most about this book, besides the unlikely and wonderful friendship, is the fact that the characters are not at all what they seem. Some characters care more about what society thinks than remaining true to friends. Others may seem to stick to societies social norms because they think that is what the other person expects, all while hiding their true thoughts and feelings. This book truly shows that you can't judge someone based on the outside or based on their social standing. Everyone is hiding secrets and it takes kindness and heart to have them open up. And some of those secrets are BIG ones. This book definitely throws quite a few curveballs at you!
Short and Sweet:
This is a wonderful historical-fiction about what it means to be true friends. It's a book that looks at social norms and tests the boundaries. It's full of secrets and gossipy goodness and characters that aren't always who they seem. While I'm not one to usually compare books, this feels like an episode right out of Downton Abbey and it is absolutely wonderful.