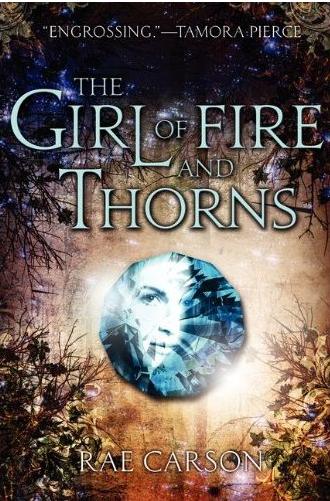 The Girl of Fire and Thorns (Fire and Thorns #1)
By Rae Carson
Available Now
Pages: 424
Format: Hardcover
Source: B&N
★★★★
Goodreads Synopsis:
Elisa is the chosen one.

But she is also the younger of two princesses, the one who has never done anything remarkable. She can't see how she ever will.

Now, on her sixteenth birthday, she has become the secret wife of a handsome and worldly king—a king whose country is in turmoil. A king who needs the chosen one, not a failure of a princess.

And he's not the only one who seeks her. Savage enemies seething with dark magic are hunting her. A daring, determined revolutionary thinks she could be his people's savior. And he looks at her in a way that no man has ever looked at her before. Soon it is not just her life, but her very heart that is at stake.

Elisa could be everything to those who need her most. If the prophecy is fulfilled. If she finds the power deep within herself. If she doesn't die young.

Most of the chosen do.
My Review:
*I'm writing this review quite a few months after I read it so I hope I cover everything :D
Characters:
The Girl of Fire and Thorns is a beautiful coming of age story with a main character that goes from self-pitying to being determined and resilient, trying to find her place in this captivating world.
I read the Girl of Fire and Thorns because it came highly recommended. However, after reading just a bit, I almost didn't finish it because I wasn't sure I was going to like it. You see, Elisa is the self-pitying, no confidence type of girl. Constantly bashing her body (she's overweight) yet doing nothing about it. Actually what really bothered me was the fact that she was fat because that was how she dealt with her problems. Something I can't relate too. For me, instead of complaining about it, do something about it. Don't get me wrong, I've had those days where I starts bashing on myself, but I'm a naturally happy person and I'm alright with how I look. Instead of complaining about it, I'll work hard to change it and make myself feel better. Now, that's just me. However, I can see how many girls would relate to Elisa, but for me, it was a bit hard at first.
She also didn't see how important she was. You see, she is the carrier of the Godstone, a stone that is in her naval (creepy, I know) placed there by God which is pretty important by most other people's standards. However, she herself thinks it is pointless and that she is not the right person to carry it. Start the constant complaints. Again, not my cup of tea, but I wanted to see where it went.
However, don't let what I said earlier stop you, because I came to love her! Although she may think she isn't important as the carrier of the Godstone, there are many that realize her importance. Heck, one man even kidnaps her because he thinks she'll be his people's saviour. And on this journey (that she eventually willingly goes on) she learns about herself and how important she is.
After this point, I grew to love Elisa. On her journey she became a strong woman that learned that if something bugged her, she had to change it instead of complaining about it. However, what made her relatable and understandable was the fact that this change wasn't instantaneous. Many things over the course of her journey started to slowly change her and give her confidence. She will never be as skinny as some of the other women, but she can get to a weight that she'll be happy with. She is also incredibly intelligent and strategic, something that was ignored in her home because she was the second daughter. However, she comes to learn to use her intelligence which helps her a great deal throughout the story (You go girl!!).
Each person in the story changed Elisa in some way. There were many good people in this story that loved Elisa even when she didn't love herself. Her first love interest helped her so much. Although I wasn't in love with him, I grew to care for him. He was amazingly sweet and loved Elisa for who she was which in turn helped her realize just how important she was.
However, I want Hector. He may not be in the book that much, but there's just something about him. I'll definitely be keeping my eye out for him ;)
Plot and Pacing and Worldbuilding:
Although this book starts out slow, it comes to a steady pace after a while. Not to fast, not to slow. Just perfect so that I felt like I was on this journey with her. The plot, while not constantly exciting with a ton of battles and fighting (which is normally how I like my books), it was still engaging. So if I like battles and action, why did I still give it 4 stars? Because all of the stuff that did happen, all those little battles helped Elisa come to love herself which is something I'll always be happy about. Go self-confidence!!
The world building was excellent! I felt like I was there with the characters. She didn't go into too much detail, but just enough so that you could feel like you were actually going on the journey with Elisa.
Now, there is one thing that really creeped me out throughout the story. The Godstone…what?! In her naval?! I don't think that's exactly….
normal
. Lets just say this creeped me out quite a bit, specially at the end! It just sounded painful! And is this a religious book? Yes and no. While it make many references to God (Godstone), its not a specific religion. Connections can be made, but its not necessary. This religion is the religion of this fictitious world.
Don't expect a happy ending. And for me, I loved it. Nobody's life is perfect and I don't like when author's make it that way. In order for it to be realistic, there's gotta be death and sadness. Now, the story isn't over, and its not like it's a depressing ending or anything. Its just not a perfect one either. Elisa goes through hard times, but she pulls through anyway. I can't wait to join Elisa again on her continuing journey of self-discovery.