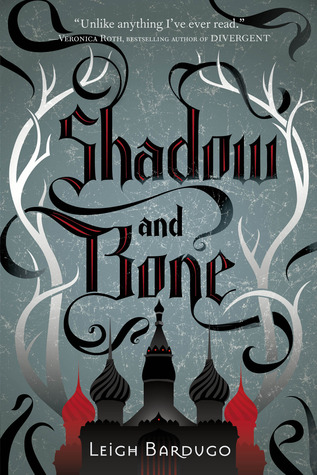 Shadow and Bone (The Grisha, #1)
by Leigh Bardugo
Source: Bought
Format: Hardback
Pages: 356
Goodreads Synopsis:
The Shadow Fold, a swathe of impenetrable darkness, crawling with monsters that feast on human flesh, is slowly destroying the once-great nation of Ravka.
Alina, a pale, lonely orphan, discovers a unique power that thrusts her into the lavish world of the kingdom's magical elite—the Grisha. Could she be the key to unravelling the dark fabric of the Shadow Fold and setting Ravka free?
The Darkling, a creature of seductive charm and terrifying power, leader of the Grisha. If Alina is to fulfill her destiny, she must discover how to unlock her gift and face up to her dangerous attraction to him.
But what of Mal, Alina's childhood best friend? As Alina contemplates her dazzling new future, why can't she ever quite forget him?
Glorious. Epic. Irresistible. Romance.
Bardugo is a goddess amongst men.
Normally when I re-read, I still love the book, but I already know what's happening so part of the
spark
is gone. However, you know it's a BEYOND amazing book when those same emotions felt the first time around come rushing back. And that is precisely what happened.
Reading this a second time felt like I was reading for the first time.
All the
feelings
came back. My heart was racing, my pulse pounding, trying not to make unintelligible sounds while at work because we know that I would be given
side-eye
curious looks.
Since this is indeed a re-read and I've already reviewed it once, I'll make this (relatively) short and sweet. If you want to see my rather awesome (if I do say so myself) GIF filled review full of
gushing
completely coherent sentences, then check it out
here
.
So, the short of it?
Beautiful. Lush. Brilliant. Perfect.
First off, the world building is A++.
Seriously phenomenal stuff here. Lush and gorgeous, Bardugo does a beautiful job of bringing in Russian influence into this unique fantasy world. And the Grisha? So cool! Not gonna lie, I totally wish I was one of them. AND THERE'S A MAP!! I love maps because it means the author really took the time to flesh out their fantasy world. That takes love and dedication.
Second, the characters. Oh, the characters.
Alina, my heart goes out to you girl.
Her growth throughout just this book alone is beyond amazing.
She's not necessarily strong at first, but neither is she weak. She's a girl who just wants to belong and is suddenly thrust into this world that may prove to be more than she asked for. While oftentimes her desire to fit in clouds her judgement, she more than comes into her own.
And Mal. Oh, Mal. You're the good guy I
should w
ant. He's likable from the beginning even though he doesn't have much page time until the end. He's
brave and encouraging and charming.
And that speech at towards the end? *Swoon* But, while this is the guy that you know is the best for you and that you should be pining after, there's one guy who's just.....
delectable.
The Darkling
MmMmmMmmmmmm. Mal is the good guy you should end up with. The Darkling is the irresistible one you want to end up with. Don't worry, it's not necessarily a love triangle seeing as Alina knows who she truly wants, but she definitely feels the pull, as you will too. Mysterious, powerful, and seductive. *faints*
He's just so sincere that it's hard not to fall for him.
And, for a slight spoiler (still vague but check at your own risk):
In the beginning it's so easy to think he is good and not greedy, that he has Ravka's best interests at heart. He's just so sincere. I totally understand how Alina could've been duped. I certainly didn't expect the turn of events. Bardugo does a great job of making you think the Darkling is truly good. Props to that!
Finally, the plot. The storyline is a delectable story wrapped in gorgeously described mythology with beautiful cultural inspirations thrown in. This brilliant plot line is brimming with Grisha, political intrigue, war and deception. Oh, and questing. Can't forget questing.
Okay, so I know I said I'd keep this short, but
I lied
I thought it would be, until I actually started writing. And it's shorter than my original review, so there's that. However, in short, all you need to know is:
read it.