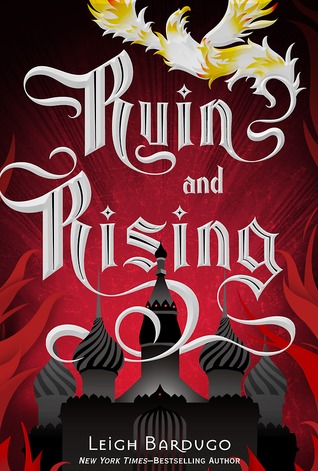 Ruin And Rising (The Grisha #3)
by Leigh Bardugo
Source: Bought
Format: Hardback
Pages: 417
Available Now
Goodreads Synopsis:
The capital has fallen.
The Darkling rules Ravka from his shadow throne.
Now the nation's fate rests with a broken Sun Summoner, a disgraced tracker, and the shattered remnants of a once-great magical army.
Deep in an ancient network of tunnels and caverns, a weakened Alina must submit to the dubious protection of the Apparat and the zealots who worship her as a Saint. Yet her plans lie elsewhere, with the hunt for the elusive firebird and the hope that an outlaw prince still survives.
Alina will have to forge new alliances and put aside old rivalries as she and Mal race to find the last of Morozova's amplifiers. But as she begins to unravel the Darkling's secrets, she reveals a past that will forever alter her understanding of the bond they share and the power she wields. The firebird is the one thing that stands between Ravka and destruction—and claiming it could cost Alina the very future she's fighting for.
It's the end of an era.
Something I both dreaded and anticipated. Whenever it comes to the end of a series, I feel this way. I needed to know how this book ended. Yet, at the same time, I couldn't image what would happen. Would I relish in the ending? Would it just suffice? Or would I loathe it with the passion of a thousand fiery suns?
What words can I possibly use to describe Ruin and Rising. It tore my heart in two, then mended it together. It was full of death, longing, and loneliness, yet also so full of hope, friendship and strength. The world that Bardugo has created is a cruel one, a broken one. Yet, there is always that little glimmer of hope for a better world.
The characters, both new and old, were full of depth and heart. I laughed, cried, and grew frustrated alongside them. The main characters from books past continued to grow into amazing people. While the secondary characters were all those we've met before, we learn so much more about them and they truly come to light. Alina and Mal are no longer alone. Some of these characters I never would've thought would be brought to the forefront, but I adored them all. I felt their despair deep in my soul, but also saw the hope and strength these characters exuded. Though different, they all came together for what matters most to them: a new Ravka.
Alina, a orphan girl suddenly thrust into power, yet still so alone. She may not have always had physical strength, but she had strength of heart. She grew so much throughout this series. From a young, lonely girl, to a powerful grisha to a woman willing to sacrifice in order to make the world a better place.
Mal, who has always been, and always will be there for Alina. A "normal" boy who, like Alina, wants what is best for Ravka. A boy willing to sacrifice his own happiness in order to achieve it. A boy who loved a girl for who she was, not what power she possessed. Unfailingly loyal to the end.
Nikolai, the gloriously good-looking prince. Cocky, arrogant, snarky and most importantly handsome. A swashbuckling privateer. A suave prince. A future king. But he's so much more than that. Through all of his outer arrogance and sarcasm, he truly cares about Ravka. He sees how broken it is and, being the true prince he is, wishes to see Ravka become the glorious country she should be.
And the Darkling.
A villain with so much depth that my heart broke for him. He was so alone. A boy with power that no one should have, and no one to share it with. What he did was cruel, cold, and calculating. Yet, all I could see was the lonely little boy who just wanted to be loved.
And the story itself....I had absolutely no idea what to expect. And this book threw me for many loops. It contained heart-break, death, depth and shocking discoveries, but always with a little glimpse of hope. I can't say too much without giving it away, but Bardugo created a wonderfully complex world, a brilliant story, and characters worth admiring. And the "After" chapter? Beautiful.
So, thank you Miss. Bardugo.
Thank you for creating a wonderfully complex world. A world that is far from perfect, yet so lush and beautiful. Your words contained a magic of their own. Thank you for a story that contains so much sadness, yet so much goodness. Thank you for creating characters with such depth. Characters who didn't always make the right decision, yet pulled through anyway. Thank you for giving me a villain I could feel sorry for. A villain so mysteriously delicious full of depth that I could understand the reasoning behind his cruelty. And thank you, THANK YOU, for giving me
Nikolai.