I've been a huge fan of Jessi over at
Novel Heartbeat
(what used to be Aunti Spinelli Reads) for a while now so when I saw that she started this new post I just had to join in! What a novel idea (hehehe). Okay, that was corny, but I'm proud of it. This weeks topic?
Okay, for those of you who don't know, I may have a slight addiction to movies and TV. Alright, maybe "slight" is too soft a word. Ughhh...okay! It's a straight up addiction but NO SHAME! I love movies. There is a dollar theater next to my college and let me tell you I take advantage of it.
So, to say this is a hard topic is an understatement. I'm usually rather easygoing when it comes to movies. A movie has to be really bad for me not to at least enjoy it a bit. My favorite genre? Action. If its got guns, car chases, sword fights or explosions, I'm happy. But I definitely have some favorites. Here are the movies that I love. Heck, that's an understatement. My joy, excitement and love for these movies cannot be described in sufficient words. These are truly phenomenal.
1. MONTY PYTHON AND THE HOLY GRAIL.
There are simply no words to describe how awesome this movie is. So, I thought I'd let the GIFs convince you.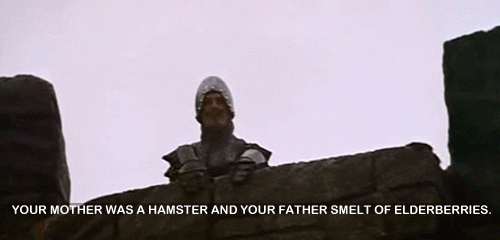 Honestly, if these don't convince you, I don't know what will....
2. LORD OF THE RINGS TRILOGY:
The epicness that is these movies is indescribable. I have never gotten so involved in the characters and plot of a movie. The brotherhood, loyalty, and courage that is shown by these characters is beyond expression. And the bromances! Ugh....love them. These movies are simply phenomenal (with plenty of hot men!!).
Yes you do....
And best of all....
The Fresh Prince of Gondor
How have I never seen this before?!?!
Okay, let me say this first: the movies are not
nearly
as good as the books. However, I love these movies because I love seeing what is perhaps my favorite books series come to life. I love seeing all these amazing characters brought to life and all the adventures they go through. Whenever the marathons come on ABC family you can bet that I'm sitting on my butt watching em!
I simply had to add in my favorite Disney movie!
Just look at those moves. Sassy.
Damon Wayan. 'Nuff said.
Words of Wisdom
Just look at those moves.
In all honesty, this is a
very
short list and in no way lists all of my favorite movies. I have a
ton.
However, these are definitely movies that have stuck with me and that I could watch over and over again. And, I just wanted to keep it short and sweet. In short, I love stupid humor and EPIC ACTION MOVIES!
So, what are some of y'all favorite movies? Did they make my list?
Mackenzie